Low fuel consumption, light weight, safety performance, and low environmental impact ...... Modern cars, which are constantly required to have the highest standards of performance, are at the forefront of technological innovation.
In the automobile industry, PIOCELAN has been adopted by all eight major Japanese automobile manufacturers as an internal constituent member of vehicles.
Since 2001, there has been a rapid expansion in the adoption of PIOCELAN by Japanese automobile manufacturers.
Since 2006, PIOCELAN has been adopted by all eight major Japanese automobile manufacturers.
Since 2010, manufacturers all over the world have been adopting or considering adopting PIOCELAN.
PIOCELAN is now used in various applications, including collision safety applications such as bumper core material and lower leg shock absorbent material, vibration absorption applications such as spare tire spacers and floor spacers, and interior molding applications such as steering column covers and cup holder core material. Here is an introduction to what properties of PIOCELAN are being utilized.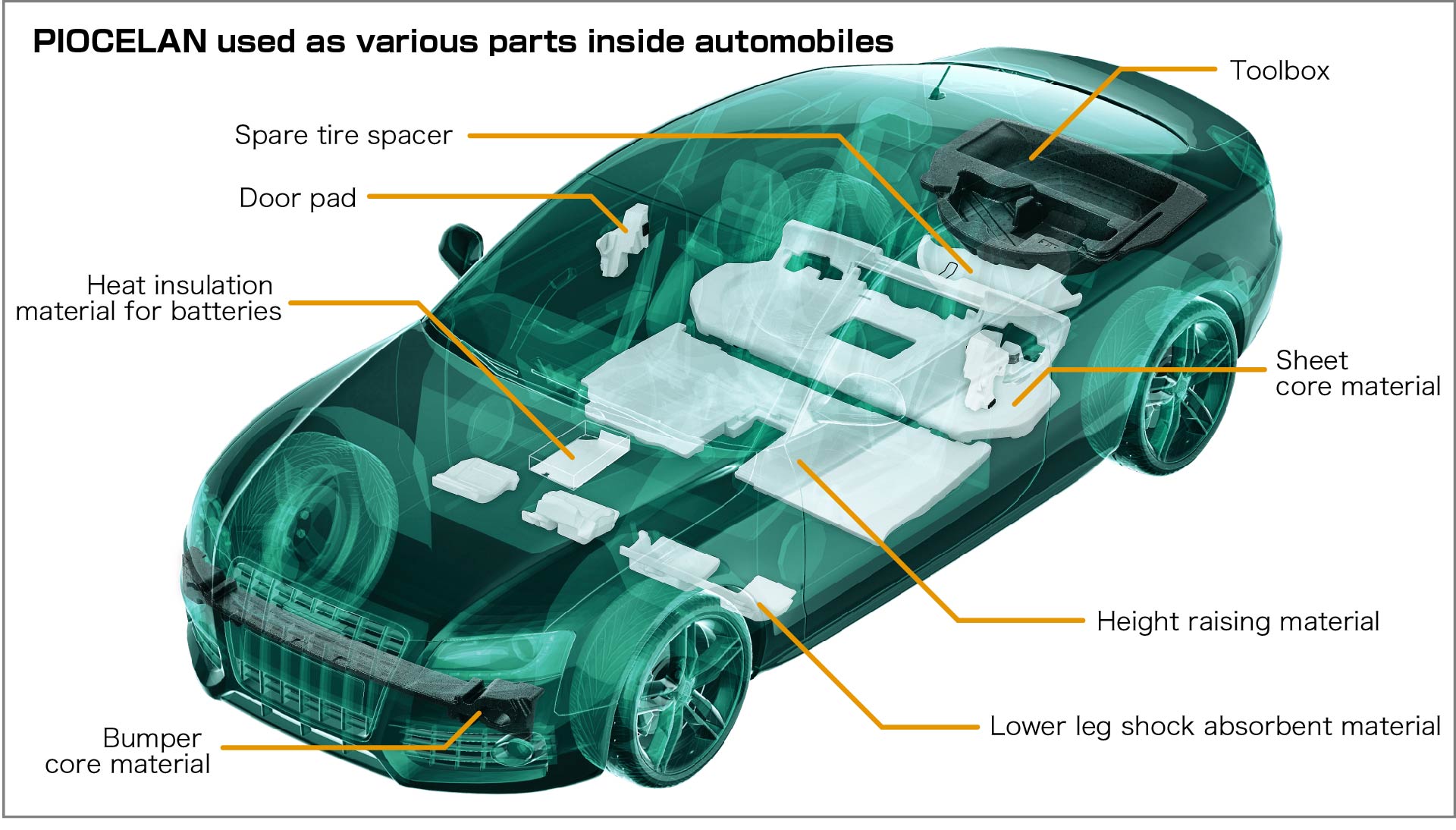 High impact resistance

PIOCELAN, which exhibits 1.2 times higher impact resistance when compared to expanded polypropylene at the same foaming magnification, contributes to a car's crucial collision safety performance and vibration absorption.
Dimensional stability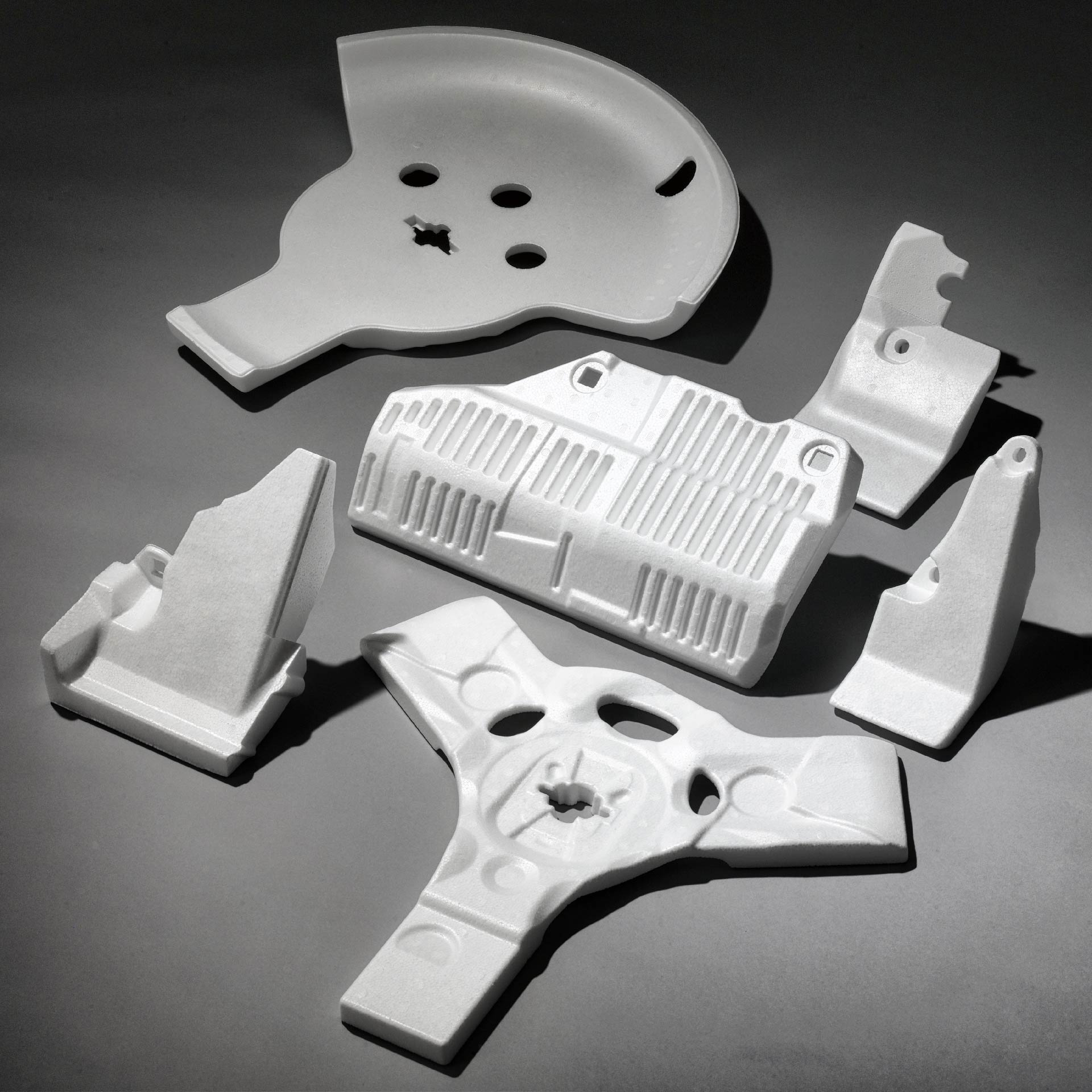 Molding accuracy for complex shapes and perfect fit
The accuracy of clearance between parts is important in a car that is a collection of tens of thousands of parts.
Since PIOCELAN has excellent dimensional stability during molding and can accommodate complex designs, we provide parts that fit perfectly into place.
Fitting perfectly and absorbing shocks play a role in the reduction of chattering and creaking noises during driving.
High chemical/oil resistance
Chemical and oil resistance between peripheral parts is an important factor in maintaining the performance of ultra-durable products for a car that is made by combining various materials such as steel, aluminum, glass, plastic, carbon fiber, leather, fabric, and rubber.
The high chemical and oil resistance of PIOCELAN allows it to maintain its performance for a long time without being affected by peripheral parts.
Weight reduction
The enhancement of safety performance, driving performance, and comfort and the reduction of fuel consumption are conflicting requirements from the perspective of vehicle weight. Therefore, modern car development has focused on reducing the weight by one gram.
PIOCELAN uses less material than polypropylene when making a molded product with the same rigidity as a molded product using conventional polypropylene. In other words, PIOCELAN can produce parts with the required performance using less material, which contributes to weight reduction.
Highly efficient supply system
PIOCELAN is produced using Sekisui Kasei's proprietary polymer hybrid technology, and its main feature is that it can be molded and processed using general-purpose equipment.
In addition to the weight reduction effect mentioned above, we have established a highly efficient supply system by delivering products from the base closest to the customer from among Sekisui Kasei's production bases around the world, thereby keeping material costs, logistics costs, and time costs low.